Norge 2006
An overview of my trip to Norway up to the Lofoten in June 2006 with a travel group in a daltus roof-tent-bus. A lot of the text is made out of notes and staccato sentences. It does not aim to give a thorough overview over Norway - just some observations I was able to make from my short trip.
edit: This article has always been a construction site, I kind of finished it up in 2008.
You might also want to check out the gallery.
Preface
Not having been to a real vacation in the last nine years, a journey was overdue for some time. Berlin or Vienna for some days, chilling at the Lago di Garda for some days, military shooting at the baltic sea for a week or surveying in the Burgundy backwoods for some weeks were all leaves I got. Not feeling a strong wanderlust, it took me a while to get going. But finally some obscure reason and inner intuition made me book a trip to the north of Norway.
The vehicle
"Papa, papa is that a prison-transport? — No son, that is the Daltus-bus."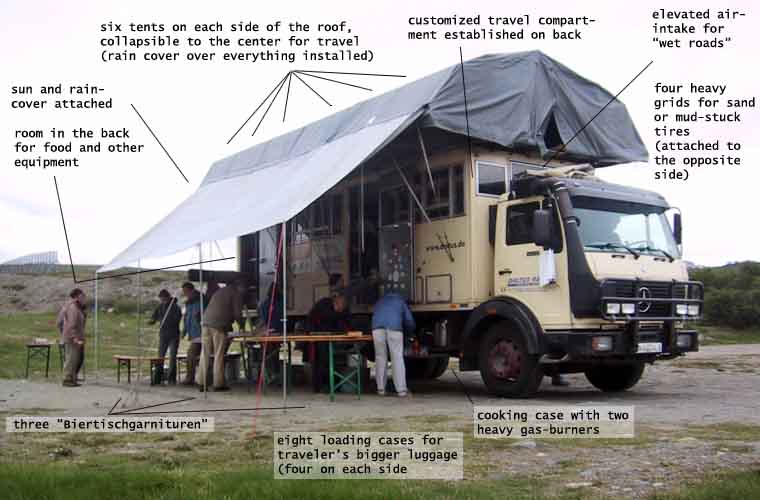 brand :
Daimler Benz 1422
year :
1989
mileage :
675 000 kilometers
engine-power :
159 KW

one of two reconstructed off-road capable trucks
seats and tents for 24 people
space for approx. 700 l diesel and 500 l water
two heavy gas burners for cooking with three 11kg propane-tanks
"So you are the ones traveling in the swine transport? Ahm - I guess yes. Well of course not! We were traveling with our off-road capable truck, modified by finest german engineering. It has an adventurous aura around itself and is of course highly communicative. First, because it usually attracts highly relaxed, error tolerant, dynamic people. Second, because riding a vehicle like this, it is easy to start small talk with about anybody.
The equipment and outfit is well thought out, even though it must at some place reach its limits. Some points to bitch about: The sun-cover did at one evening not withstand the storm and had to be removed. The luggage compartments on the right side of the bus, with the doors and the cooking area, are not so accessible, during cooking and working times. With rain outside, the windows steam up. The interior of the bus can get kind of tight with wet towels, wet shoes, wet jackets and all kind of other stuff around. And 24 passengers. Luckily there were only 18 people in our travel group. But I guess it will work nonetheless with a little bit more discipline.
Forget the complaints: a darn cool ride.
Our driver, Markus has been great. Always relexed and in control, radiating an aura of easiness. Way to go man.
p.s.: the bus is so old, seat-belts in the front are not obligatory - strange feeling
The equipment
What to take on a trip like this? My equipment decisions have been more or less okay - but check out the synopsis:
Stuff I thought I forgot after I left home
| object | needed? | comment |
| --- | --- | --- |
| warm winter cap | yes | especially on deck of the ferry to the Lofoten |
| music CD | yes | you can never have enough musical diversity for a two week trip in a bus |
| walking sticks | no | the wet moss floor in norway prevents the useful application of walking sticks |
| sitting mat | probably | better yet one of the lying mats of the german armed forces |
Stuff I took and did not need
| | |
| --- | --- |
| flashlights (2x) | you will not need flashlights when traveling to northern Scandinavia during the midsommernight |
Stuff I did not think about, but could have used
| | |
| --- | --- |
| Umbrella | a small umbrella would have been nice |
| compass | nice gimmick in the wilderness |
| small GPS receiver | probably the ultimate gimmick to play with on a trip like this |
Stuff I thought about, but decided against it
| | |
| --- | --- |
| shoe polish | thanks to Joachim for taking it with him and borrowing it to me - essential to seal your leather boots |
| rain trousers | does not take a lot of space, but would have been extremely useful - kudos go to Silke for borrowing me hers |
The trip
written overview:
The group met in Kiel before boarding the ferry. Passing the baltic sea over night we went north on the E6 right the next day. Because of Norway's long shape and our travel target in the far north, we had to do a lot of driving the first days. But there was always enough time for a stop at the sights along the way. We spent the nights alternating between wilderness without sanitary facilities and camping sites.
Far in the north on the islands of the Lofoten and the Vesteralen we did some hiking, inspected the flora, the wildlife and the land and watched the sights.
The travel back down went akin the travel up. We finished our trip with one and a half day in Oslo. The group parted in Kiel after leaving the ferry.
Following is a detailed tabular overview of our trip followed by some memorable events.
tabular overview:
date
night location
latitude
supper
activities
WED 14
train Landshut - Kiel
48°32'N-
54°24'N
some snack
last minute shopping and packing
THU 15
ferry Kiel - Oslo
54°24'N-
59°55'
group buffet
checking out Kiel, meeting the group and the bus, first time on ferry, chilling on deck
FRI 16
Dovrefjell
62°18'N
noodles with tomato/tuna sauce
traveling north on the E6, Lillehammer with Maiaugen museum and Olympic ski-jump, Stave church in Ringbu
SAT 17
Levanger
[north of Trondheim]
63°44'N
chilli con carne
traveling north on the E6, bringing travel companion to doctor and put in plane, visiting trondheim: cathedral as biggest building from the middle ages in Scandinavia, city, fort, harbor, bicycle elevator
SUN 18
Svartisvatnet
[north of Mo i Rana]
66°30'N
tortellini with cheese/creme sauce
traveling north on the E6, visiting Svartisen glacier by boat and hike
MON 19
Austresfjord
[Svolvær - Ausvågøya]
68°7'N
swabian potato-salad with sausage
traveling north on the E6, crossing the polar circle, ferry from Skutvik to the Lofoten
TUE 20
Lyngværet
[Kabelvåg - Ausvågøya]
68°14'N
rice with china-pan
scenic drive, hiking, chilling
WED 21
north coast of Vestvågøya
[Eggum]
68°17'N
potatoes with zaiziki
scenic drive, beaches, viking museum, hike along the coast from Unstad - Eggum, campfire
THU 22
Nyksund
[Myre]
68°59'N
rice with chicken, curry, pineapple and apricot
scenic drive, Henningsvær, paddling, ferry from Fiskebøl to Melbu, Vesterålen
FRI 23
Nyksund
[Myre]
68°59'N
fiskesoup and fladbrød on the MS Leonora
hiking to Stø, boarding the MS Leonora for whale watching up to 69°20'N and bird watching on lighthouse-island Anda Fyr
SAT 24
Myre
68°55'N
Kässspätzle and Lumba Bumba
scenic drive, bird-rock in Nykvåg, boat-trip to hike
SUN 25
Sandnesvatnet
[South of Fauske]
67°50'N
noodles with mushroom-creamsauce
leaving the Vesterålen over the Tjedlsund, old german bunkers, Narvik, traveling south on the E6
MON 26
Snåsavatnet
64°17'N
vegetable stew with sausages
traveling south on the E6, crossing the polar circle, Gromligrotta
TUE 27
Dovrefjell
62°18'N
potatoes with grilled salmon
traveling south on the E6, buying salmon in Trondheim, hiking in the fjell
WED 28
Ekeberg
[Oslo]
59°55'N
spagetti bolognese
traveling south on the E6, strolling in Lillehammer and Oslo by night
THU 29
Ekeberg
[Oslo]
59°55'N
leftovers
Oslo: central station, downtown, changing of the guard at the castle, national gallery, ship to museum island in harbour, Fram-Museum, meeting the gang in Vigelandsparken, chilling in the park, shopping norwegian food, meeting Ingrid at the castle, meeting Ulrike/Ralf at the central station
FRI 30
ferry Oslo - Kiel
59°55'N-
54°24'N
snacks
chilling on deck, farewell session on deck
SAT 01
train Kiel - Hamburg - Landshut
54°24'N-
48°32'N
german bakery
walking in Hamburg, Alster, planten un blomen, harbour, harbour cruise
memorable events:
time slowed down ...
... in the first 72 hours of the trip.
exploring ones dark side ...
Just four month before the trip I did a first aid course.
the vikings came out of nowhere ...
... and disappeared again as fast as they came in the fog.
We were sitting by the campfire near Eggum on the Lofoten. Geographically we had a perfect open view to the north to see the low point of the sun. Metrologically it was foggy and we did not see no sun at all. All the other campers in our surrounding hide in their trailers or tents while we were staying semi-comfortable at our campfire.
Then, sometime after one o'clock, when a lot of us already went to bed, a bus with a group of man from the main land, who did a father's day jaunt, stopped at our place. Of course they came to our campfire, the only place with people around. Right before that, Martin said to himself, "now, a beer would be nice." (alcoholic beverages are always scarce in Norway). Moments later the Norwegians passed out cans of beer and dried stockfisk and stayed for some chitchat. It felt quite bizarre.
hunting whales ...
... for pictures.
... and some minor observations:
Luckily I took the day before leaving off - ever since I can remember, I seem to pack my shit exactly right before leaving.
I left for the trip the evening the german football team won against Poland in the preliminary round. (I remember the fans: "Arbeitssieg, Arbeitssieg" [work-victory, work-victory]) Apparently Germany with its visitors from all over the world was in a state of extasy during the two central weeks of the four weeks of the world-cup. I did not feel like missing all too much, even though it would have been nice to have witnessed the craze.
Riding by train over night up to Kiel in a six person compartment was hell, back down home in the big compartment totally relaxing and unwinding experience.
Having no recollection of my early childhood shipping experiences I found an ardor for cruising over the ocean. Have yet to get seriously see sick
I would probably never visit a local heritage museum in Germany but we did so in Lillehammer. It was quite nice and the guide was especially queer, funny and original. Kudos to her.
The gang
Our group has been great. Thanks everybody. The average age was probably about 32 years. Everybody was more or less relaxed and was quite error tolerant - quite a useful attribute for a trip like this. About half the people already participated in on or more trips with Daltus. Here is a map of Germany showing the location of everybody:
The norwegians
Traveling in the group and in the wild, we did not have much contact with the natives. Still I dare to make some observations:
Norwegians are very modest. Over the ages their lives have probably always been under the impression of the scant land and the rough seas. The land is not that fertile, catching fish is a hard business and selling wood is probably not that fruitfully. Now the norwegian people hit the jackpot with relatively big oil-findings in the North Sea in the seventies. But still they remember their roots and lead a modest lifestyle.
Norwegians are quite patriotic. Frequently there are reminders to foreign occupation over the ages. One can see more norwegians flags in front of houses, than in front of american houses, as far as I remember. But the patriotism feels never aggressive or intrusive.
Norwegians like big trampolins in their front yards - strange.
Norwegians do not cool down in public-swimming pools or big lakes - but rather in small mud piss holes - strange
Norwegians are mostly quite slim - probably because the cost of living is so high and they can not afford to buy more food. Ah - rubbish.
Norwegians are probably a little bit fussy. Strict speed limits, speed control cameras every several kilometers. Our bus got stopped by the cops twice in two weeks. Everything is kind of orderly - that is how I imagine Switzerland to be like. There is even deposit system for one-way drinking containers just like in Germany.
The land
We saw quite a lot of landscape - here some observations:
Wilderness 99% of norwegian electricity is produced by hydro-power
Wood is the preferred medium for the construction of most buildings. Especially in the countryside. It is always refreshing to travel to different countries, and witness the different building styles. Of course the way, primarily functional buildings - industrial and commercial buildings - are build the same everywhere around the world, but houses for living are often build in traditional way.
The modesty of the Norwegians expresses itself in the understatement of construction. No aggressive billboards in front of supermarkets, no flashy, tall buildings.
Agricultural units are small, only maintained by subsidy. North of Trondheim as the mountains get more and more brusque and the climate colder, agricultural work is reduced to a minimum.
Local fishing is subsidized as well, probably to preserve a long tradition. The villages on the Lofoten are characterized by the wooden racks for drying fish. These and the smell of the fish would be lost, without subventions.
Summary
Great vacation. Scary how I lack the Wanderlust and inner drive and theirby deny myself fresh stimulus and inspiration from travel. Well, there has been some improvement lately.