basketball-mixtapes
I composed some mixtapes for our basketball-group. Finding decent music recommendations on the web proved not so easy so I am publishing my tracklists here.
We are talking about real 60 minute cassettes here. I am burning a CD with the tracks and then use my dad's stereo to dub the music onto tapes, because all the only left-over music-player we found had were two cassette-decks. Old-skool.
All in all, I think the selected music is perceived very well among our players.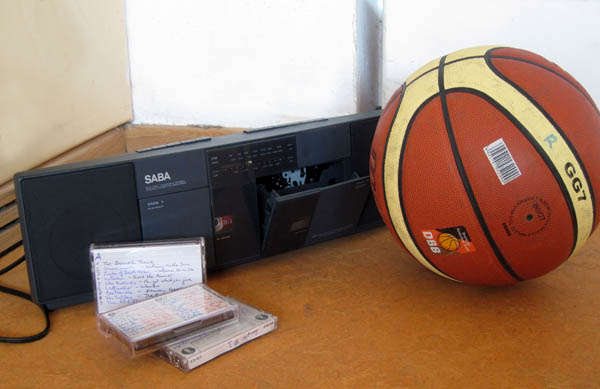 Tape No. 1

Side A

Jurrasic 5 - The Game
Beasty Boys - Sure Shot
Fort Minor - Remember My Name
House of Pain - Jump Around
Ice Cube - Check Yourself
Gonzales - Take Me To Broadway
Chali2na - Comin Thru
US3 - Cantaloop

Side B

Bring it On - Space Jam
Tag Team - Whoop There It Is
Method Man - Hit em High
MGMT - Electric Feel
Moby - Porcelain
Fatboy Slim - Gangster trippin'
De La Soul - All Good
Il Bastardo - Jubilee Stomp

Tape No. 2


Side A

Jimi Jamison - I'm Always Here
Smashmouth - Walking on the Sun
Eagles Of Death Metal - Wanna Be In LA
Kasabian - Shoot The Runner
New Radicals - You Get What You Give
Wolfmother - Woman
Rob Zombie - Demon Speeding
FooFighters - The Pretender
The 5.6.7.8's - Woo Hoo

Side B

The Trashmen - Surfin' Bird
The Troggs - Wild Thing
Edwin Starr - War
Rage Against The Machine - Guerrilla Radio
MGMT - Kids
Fall Out Boy - 7 Minutes In Heaven
The Vines - Don't Listen To The Radio
U2 - Sunday Bloody Sunday
Johnny Cash - Ring Of Fire
Pink Panther Theme


Tape No. 3


Side A

Caribou - Odessa
Chilly Gonzales - Never Stop - Original Mix
Kosheen - Hide you
The Suzan - Home
Shantel - Bucovina
Phoenix - If I Ever Feel Better
Goldfrapp - Train

Side B

Daft Punk - Aerodynamic
Gnarls Barkley - Gone Daddy Gone
Crookers - Cooler Couleur (Feat. Yelle)
Jean Jacques Smoothie - 2 People
Chemical Brothers - Star Guitar
Tiga and Zyntherius - Sunglases at Night
Mujava - Township Funk


Tape No. 4


Side A

Apathy feat. Emilio Lopez - It Takes A Seven Nation Army (To Hold Us Back)
Nas & Damian Marley - As We Enter
Mocky - How Will I Know
Skee-Lo - I Wish
The Doggy Pound - What Would U Do
Gang Starr - Who's Gonna Take The Weight
Santa Esmeralda - Don't Let Me Be Misunderstood

Side B

MC Hammer - You Can't Touch This
Nas ft. Olu Dara - Bridging The Gap
Muallem feat. Lyrics Born - 2Hot 2Cold 2Tough
FLIP & AVERAGE - Chef Rocka
Styles Of Beyond feat. Mike Shinoda - Second To None
Tech N9ne - The Beast
Red Cafe - All Night Long
Tres Delinquentes