florian's hikes in the alps - florere goes mickey mouse cartography
⇒ Just the pictures with the peaks.
1 The specification of the VDist is kind of unsatisfactory for several reasons:
it is the net altitude traveled, not the actual performed difference in altitude, which can be easily several hundred meters more.
some hikes have been done with some sort of technical mean (sled, overnight stay, some other kind of aid one way). For a start one can switch the aided tours off and be left with the peaks which have been climed up and down by foot in one day
Yet the data model is consistent in itself and I do not have a better solution.

2 HDist is the actual traveled distance both ways. I usually do a quick and dirty digitizing of the path in some digital map. Use at own risk.
altitude above see level
0m to 999m

1000m to 1249m

1250m to 1499m

1500m to 1749m

1750m to 1999m
2000m to 2249m

2250m to 2499m

2500m to 2749m
2750m to 3000m

3000m up
difference in altitude
| | | | | |
| --- | --- | --- | --- | --- |
| | 0m | - | 599m | "better walk" around the block, can probably done without backpack. |
| | 600m | - | 1099m | "typical hike" in the bavarian alps, can be done by any healthy person with enough time, fine weather and a backpack with enough fluids. |
| | 1100m | - | 1399m | "serious hike", can probably still be done by most people with the mental will to do it, even though some physical fitness and prior hiking experience is recommended. You will feel your body the next day(s), attemting such task without some preparation. |
| | 1400m | - | above | "serious enterprise": you need a long day*, fine weather and some training. |
*
also considering about 3h of travel time one way from my home to the typical mountain that high
As some of the values for the difference in altitude are flawed by the use of technical means, this icon is not always revealing.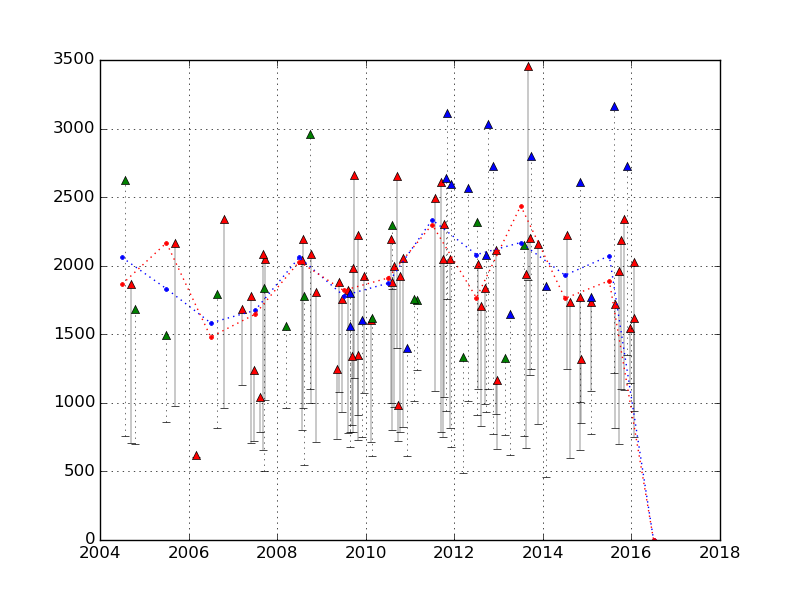 credits
Map made possible with GmapEZ , table sorting by kryogenix.org sortTable library and DHTML Tool Tips by Walter Zorn. It is amazing how far javascript programming has come. I am lucky if I can find the right spot in those libraries to do customizations when needed.
The graph in the bottom is done with matplotlib.
The sorting-shit does not work in IE7, or rather just in some strange configurations. Nevermind, just use some other browser, if you need it.
WTF is Mickey-Mouse Cartography?
Mickey-mouse-cartography is a term coined by a professor at the faculty of geomatics at the university of applied sciences in munich, by which he expressed his utter contempt with internet cartograpy. Welcome to a german instituion of higher-learning.